Northwest Huskies Walkout and Gather in Support of Trans Rights, Opposing Nebraska Legislative Bill 574
Photographs by Tori Wiederin, DaeLynn Parker, Eh Moo Shee, JaKayah Collins-Wilson, Haiden Derra, Mr. Hallaert, and Illaria Ground Aguilera
At 2:30 PM today, Trans Day of Visibility, many of our Northwest Huskies walked out their 4A class, then out of the school in protest of Legislative Bill 574, or the "Let Them Grow" act. A completely student-organized event, these students braved the cold to speak their mind.
The protest started at the front of the school near the flagpole. Students gathered around and held their signs, cheered, hugged, and came together for their cause. Next, the protest moved down to the street in front of the school where passerby cars honked their horns in support of the students.
One such student who walked out was Brandon Watts. When we asked him why he decided to protest today, he told us, "I'm out here to support Trans Rights. I feel like people should be able to do what they feel like doing, and I don't think the government should be able to decide whether trans people should have healthcare or not…" When asked if there was anyone in his life who he was protesting on behalf of, he said, "I have a friend named Ezra who is trans and who is very important to me."
Brooks Seibel, when asked why he was out here, he said "I'm fighting for my rights!" I asked him to expand on that, and he explained, "Well, I'm a trans man and I'm on hormones, and with the bills that would get passed, they would take bio hormones away." On the question of 'What would you like to say to any of your trans friends here at the school?' Brooks replied, "I love you, and I am so, so proud of us for standing up for ourselves!"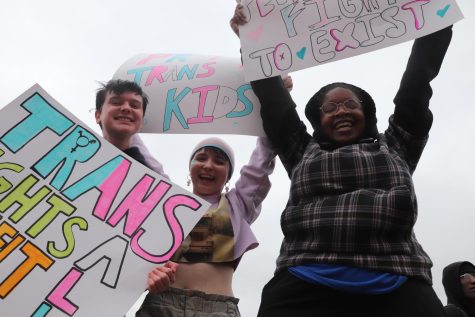 Damien and Joan told us they were out there because they were "protesting the two anti-trans bills that were recently passed that our limiting our trans rights even more. It's a peaceful protest, and we're just out here to get the message out a little more." When we followed up to ask them if they were trying to show support for any specific person, they said, "Ourselves!" Finally, I asked them if they had any words they'd like to say to any trans youth in Nebraska today. Damien said, "You are safe. You will be safe. You are not alone." Joan replied, "Keep existing, if nothing else, out of spite."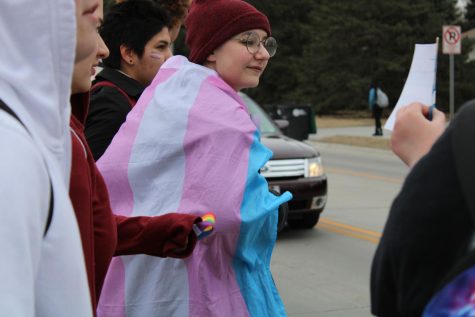 Even once the school day was over, the protest continued. Dr. Jackson, our principal, made an announcement saying that the administration supports "the right to protest" for these students, and it seems that no punishments will be doled out for these students.
Leave a Comment
Your donation will support the student journalists of Omaha Northwest High School. Your contribution will allow us to purchase equipment and cover our annual website hosting costs.